SPRAY TANNING
Er is altijd een beter alternatief dan de zon. Spray tanning is in tegenstelling tot zonnen goed voor de huid, en het geeft u binnen 10 minuten de gewenste teint. De bruine kleur kun je ongeveer 5 tot 7 dagen behouden, mits je deze goed verzorgt.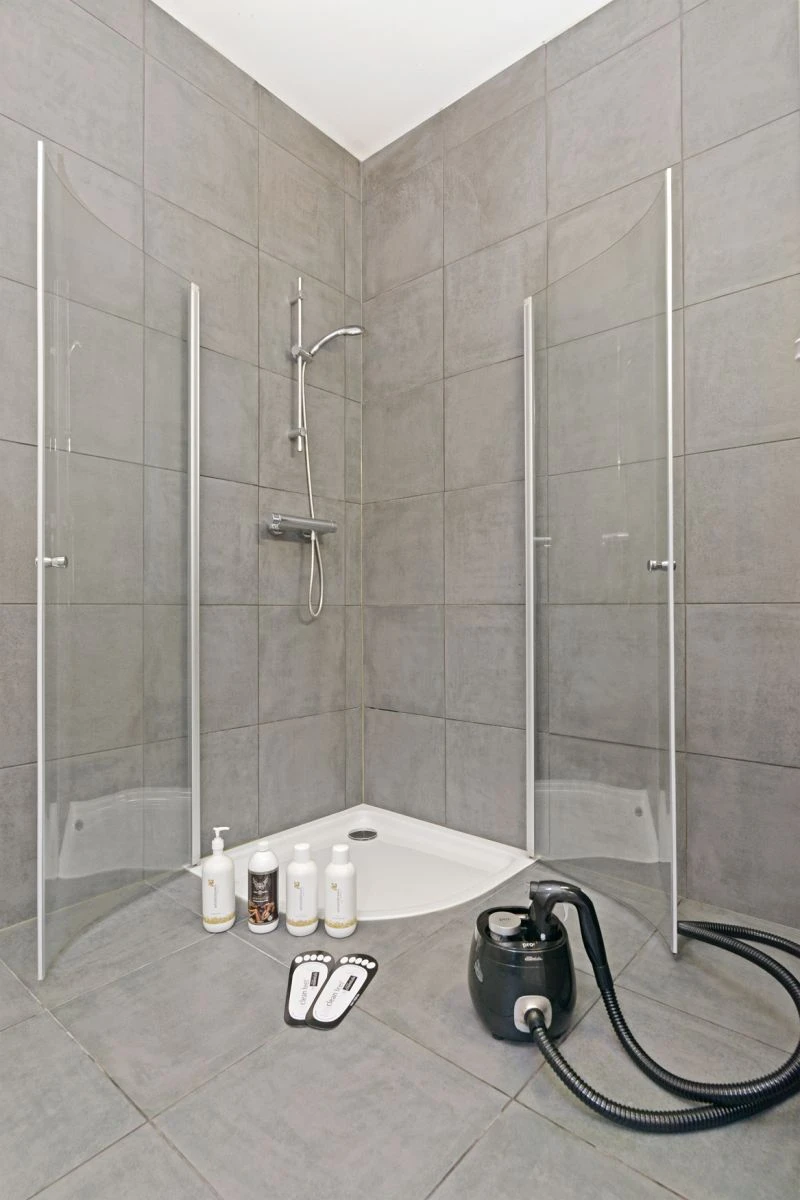 Om het resultaat zo lang en mooi mogelijk te houden is het belangrijk om vóór de behandeling:
... 1 dag van tevoren de huid te scrubben;
... scheren en waxen kan tot 8 uur voor de sessie, omdat de huid anders te gevoelig is;
... verwijder alle make-up voor de behandeling;
... ook het gebruik van bodylotion, crème, parfum en deodorant wordt op de dag zelf afgeraden.
Na de behandeling:
... even wachten met douchen en baden, zodat de lotion goed kan intrekken. Minimaal zes uur na de behandeling mag u weer douchen met een milde douchegel;
... niet gelijk gaan sporten. Overtollige transpiratie is dan als gevolg en dit wordt afgeraden;
... om de bruine teint langer te behouden een vochtinbrengende crème dagelijks aanbrengen.
Spraytanning is voor iedereen geschikt en er zijn geen nadelige effecten bekend. Uit voorzorg wordt spraytanning niet toegepast bij psoriases, eczeem, snij- of schaafwondjes en gedurende de zwangerschap (Zie volgende Alinea). Heeft u last van vitiligo? Dan is het zeker de moeite waard om spray tanning te proberen.
Spraytanning & Zwangerschap
Het debat over de vraag of zelfbruiners in het algemeen veilig zijn tijdens zwangerschap is onbeslist. De vraag is of de werkzame stof in deze producten, DHA (Dihydroxyacetone), in staat is om de huid te doordringen. Alles wijst erop dat het niet kan. Er zijn geen problemen gemeld met betrekking tot DHA en het penetreren van de huid, of het veroorzaken van problemen tijdens zwangerschap. DHA wordt al verwerkt in cosmetica sinds 1960, er zijn nooit problemen gemeld.
Er zijn geen schadelijke chemische stoffen in al onze self tan-oplossingen, maar wij raden wel aan om geen spray tan behandeling te ondergaan tijdens het eerste trimester van een zwangerschap. Na deze periode is het mogelijk om op eigen risico met eventuele toestemming van een verloskundige/arts de behandeling te ondergaan.
Wel is het zeker een veiliger alternatief dan de zonnebank of zonnen. Zonnebanken is echt uitgesloten tijdens zwangerschap (oververhitting / UV straling).

Tip! Duo behandeling Spray Tanning!
Ook is het mogelijk om samen met een vriendin te komen voor spraytanning met onze Duobehandeling.
U betaald beide voor het gehele lichaam slechts € 22,50 per persoon.

Mascha van beautygloss is bij ons langsgeweest voor de spraytanning.
Ben je benieuwd naar haar vlog?
Bekijk hem snel hier!

Het is mogelijk om de spray tanning behandelingen te boeken op onze locatie:
Den Haag, Willem de Zwijgerlaan 37.